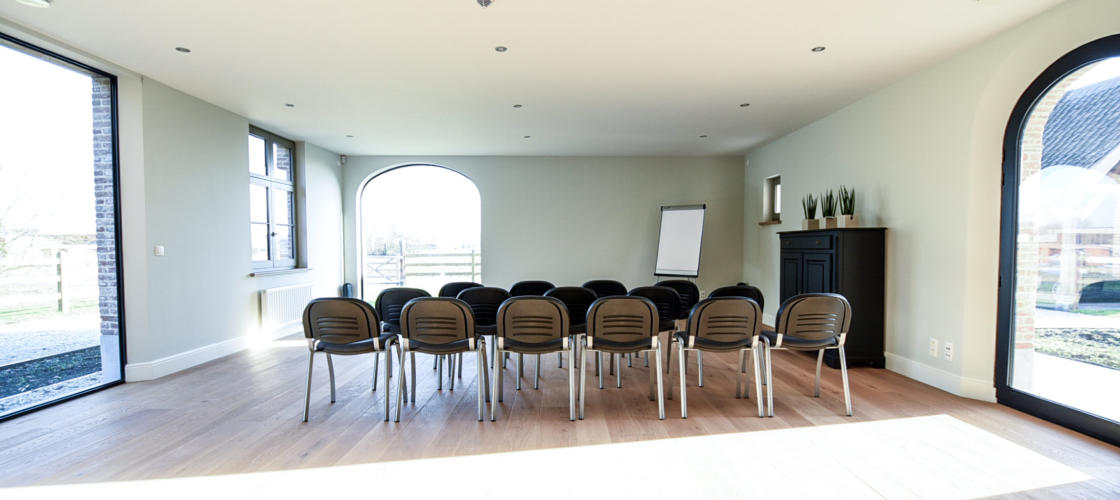 Separate lunch and breakout
room
To work, we offer the semainar room of
60m². Lunch, coffee, soup, orange juice
and working in small groups can be done
in the 40m² breakout room next door. This
room gives you direct access to the
beautiful garden and surrounding fields.
Seminar room
This 60m² sized room is perfect for groups
up to 15 people: lots of space, lots of light
and absolute quietness, in the middle of
nature.
Flipchart and beamer are available,
morning reception with coffee and
breakfast cookies is standard. Water, small
bites and fresh fruit are always available.
A sandwich lunch or warm meal will be
provided on request.
Surrounding nature
Laenenveld has a private garden of
5000m² but is also surrounded by nature:
only woods, meadows and fields with small
footpaths waiting for friendly, quiet
seminar visitors…

SEMINARS
Laenenveld is an inspiring place, an oasis of rest in the
middle of nature, discrete and exclusive. It offers
opportunities for and is dedicated to the growth and
development of individuals and teams. Laenenveld Offers a
place for groups of up to 15 people for training sessions,
workshops, meetings,… In Laenenveld there can only be one
group at the time so that all facilities and the beautiful
surroundings are always exclusively available. Parking space
is available both at Laenenveld as well as in the immediate
surroundings.
Wolfstraat 26 2870 Liezele-Puurs Sint-Amands
© Laenenveld

BOOK NOW via
info @laenenveld.be

BOOK NOW via
info @laenenveld.be

BOOK NOW via
info @laenenveld.be